---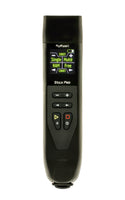 Rig Expert Stick PRO Antenna Analyzer
Rig Expert
RigExpert Stick Pro.
Specifications
*Free 2 Day Delivery!*
Frequency range: 0.1 ~ 600 MHz
Frequency input step: 1 kHz
Measurements for 25, 50, 75, 100, 150, 200, 300, 450 and 600Ω systems
SWR measurement range: from 1 to 100 in digital mode, from 1 to 10 in graph modes
Range R and X: 0… 2000, -2000… 2000
Operating modes: SWR, Return loss, R, X, Z, L, C, magnitude and phase angle at one frequency. SWR chart, 100 points. Multé mode – for quick testing of a multi-band antenna.
HF output: Connector type: N-type. Output signal shape: square, from 0.1 to 600 MHz. Output power: -10 dBm (at a load of 50 Ohms).
Power: One lithium-ion battery 3.7 V type 18650. When the analyzer is connected to a PC or DC adapter with a USB connector, it receives power from these sources
Interface: 200 × 200 TFT display. 2 × 3 keys on the waterproof keyboard. English menu and help screens. USB connection to a personal computer
Bluetooth: v.4.2 BLE Single Mode, Class B
Dimensions: 185 mm x 40 mm x 33 mm (7.3 inches x 1.6 inches x 1.3 inches)
Operating temperature: 0 … 40 ° C (32 … 104 ° F)
Weight: 185 g (6.5 ounces) with battery
Warranty: 2 years
GTIN-13: 4820185420280
RigExpert Stick Pro is made in Ukraine.
* All specifications are subject to change without notice or obligation.